UN delegates reach historic agreement on protecting marine biodiversity in international waters.
The Secretary-General of the United Nations, António Guterres, has commended member states for reaching a significant agreement on the conservation and sustainable use of marine biological diversity of areas beyond national jurisdiction.
This milestone agreement is being referred to as the 'High Seas Treaty' and is the culmination of UN-facilitated talks that began in 2004. The legal framework will put 30% of the world's oceans into protected areas, provide more funding for marine conservation, and address access to and use of marine genetic resources.
The Secretary-General has stated that this treaty is crucial in addressing the triple planetary crisis of climate change, biodiversity loss and pollution and is also necessary for achieving ocean-related goals and targets of the 2030 Agenda for Sustainable Development and the Kunming-Montreal Global Biodiversity Framework.
The Secretary-General has congratulated all parties involved for their ambition, flexibility, and perseverance, and has recognized the support of non-governmental organizations, civil society, academic institutions, and the scientific community.
The President of the 77th session of the UN General Assembly, Csaba Kőrösi, has also congratulated the delegates and Ambassador Rena Lee of Singapore for their leadership and dedication in reaching consensus on a global legal framework for the high seas.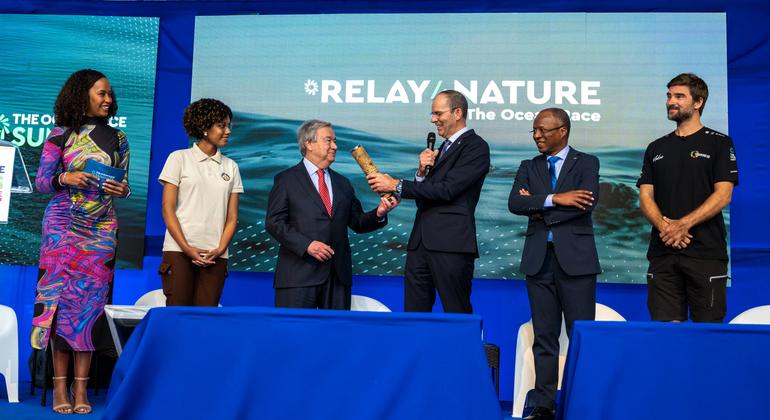 The Secretary-General looks forward to continuing to work with all parties involved to secure a healthier, more resilient, and more productive ocean for the benefit of current and future generations.
This achievement is a victory for multilateralism and a positive step towards countering the destructive trends facing ocean health.
By working as one, its a race we can win. Let's all become the champions the ocean needs. Let's end the ocean emergency and preserve this precious blue gift for our children and grandchildren, urged the UN chief.