The fight against human trafficking is the joint responsibility of the global community. Our joint efforts must be intensified by further developing the close cooperation that already exists between governments and nongovernmental organizations (NGOs).
Human trafficking is a global problem, and children, women and men throughout the world are being cruelly exploited in this modern form of slavery. This type of criminality causes its victims great suffering, and constitutes a challenge to the entire international community.
Human trafficking violates fundamental human rights, and infringes provisions of international law such as the prohibition on slavery and forced labour in Article 4 of the European Convention on Human Rights.
The Norwegian Government intends to combat all forms of human trafficking at the national and the international level. Norway's measures to combat human trafficking are in accordance with its international commitments, including the requirement of gender sensitivity in the UN Convention on the Elimination of All Forms of Discrimination against Women and UN Security Council resolutions 1325 and1820. Norway will focus particularly on children and illicit financial flows generated by human trafficking.
Norway has made broad-based international efforts by working to strengthen the framework of international law and supporting projects for preventing human trafficking and helping victims.
The Government will continue and intensify its efforts to combat human trafficking. Established structures will be improved. Competence development in the field will be continued. The steps that have been taken so far will be evaluated so that quality can be improved and measures can be more accurately targeted.

For a number of years Norway has been engaged in dialogues with various countries with the aim of promoting respect for human rights.
The subject of human trafficking will continue to be an integral part for the Norwegian Government. Norway will continue to finance projects in transit countries and countries of origin that support the authorities' efforts to combat human trafficking, and priority will be given to the countries of origin of victims in Norway and countries with particular problems.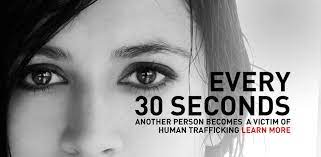 Norway will continue to play a leading role in the efforts to strengthen, coordinate and implement international legislation against human trafficking, especially within the UN, the Council of Europe and the Council of the Baltic Sea.
Norway will promote international efforts to stop illicit financial flows generated by human trafficking and strengthen financial investigations aimed at confiscating the proceeds of human trafficking.